Back
Planning your online content is important for successful communication. Here are some tips for managing your content and keeping it up-to-date.
Maybe you are just getting started on social media and are daunted by everything you have to do and monitor. Or perhaps you're suffering from oversharing burnout after trying to keep up with all the information you want to post for your organization. 
Pause. There's a better way. Here are some key tips to follow and some handy links to set you up for success. 
Be Consistent
This is one of the key things to remember about social media. Too many posts may be annoying for some people, and they may lose interest because you're not saying anything new. Alternatively, don't post a lot for one week and then nothing for two months. Your audience has a lot of information in their feed. Your content needs to pop up there regularly so people can see it often and take notice of you. 
Try and find a balance in your posting schedule that is both achievable and effective for your communication. There is trial and error involved, but your social media metrics will show which posts at which time are performing best. Try to find when your audience is most likely to be online and post at those times. This can help you develop an effective posting pattern. 
You also need to have a consistent look, feel, and tone of voice across your social media presence. This will help to build your organization's identity online and make it more memorable. Read more about this here.
Choose Quality, Not Quantity
You don't have to post 24 hours a day just because you can. Choose to publish quality content instead. It is better to post quality content once a week than poor content daily. Your audience just won't be interested if there is no value in your content for them. Always follow your communication strategy and stick to your key message to continually engage your audience. What will attract their attention and at the same time promote the goals of your organization? 
Stay Up to Date
Different social media networks regularly change the layout specifications required for their posts. This means you need to stay up to date with the formats so you can post accordingly and make sure your content is published the way you want it to be. Click here for a regularly updated guide to social media sizes.  
Also stay up to date with what others are posting. Learn from organizations similar to yours, and also monitor leading organizations elsewhere for inspiration and tips for content. What kind of conversations are they having with their audiences?
Post Different Types of Content
Vary the type of content you post. This will not only keep it interesting for you, the creator, but make it more engaging for your audience. You can also gauge their reactions and see what works best. Some different types of content could be: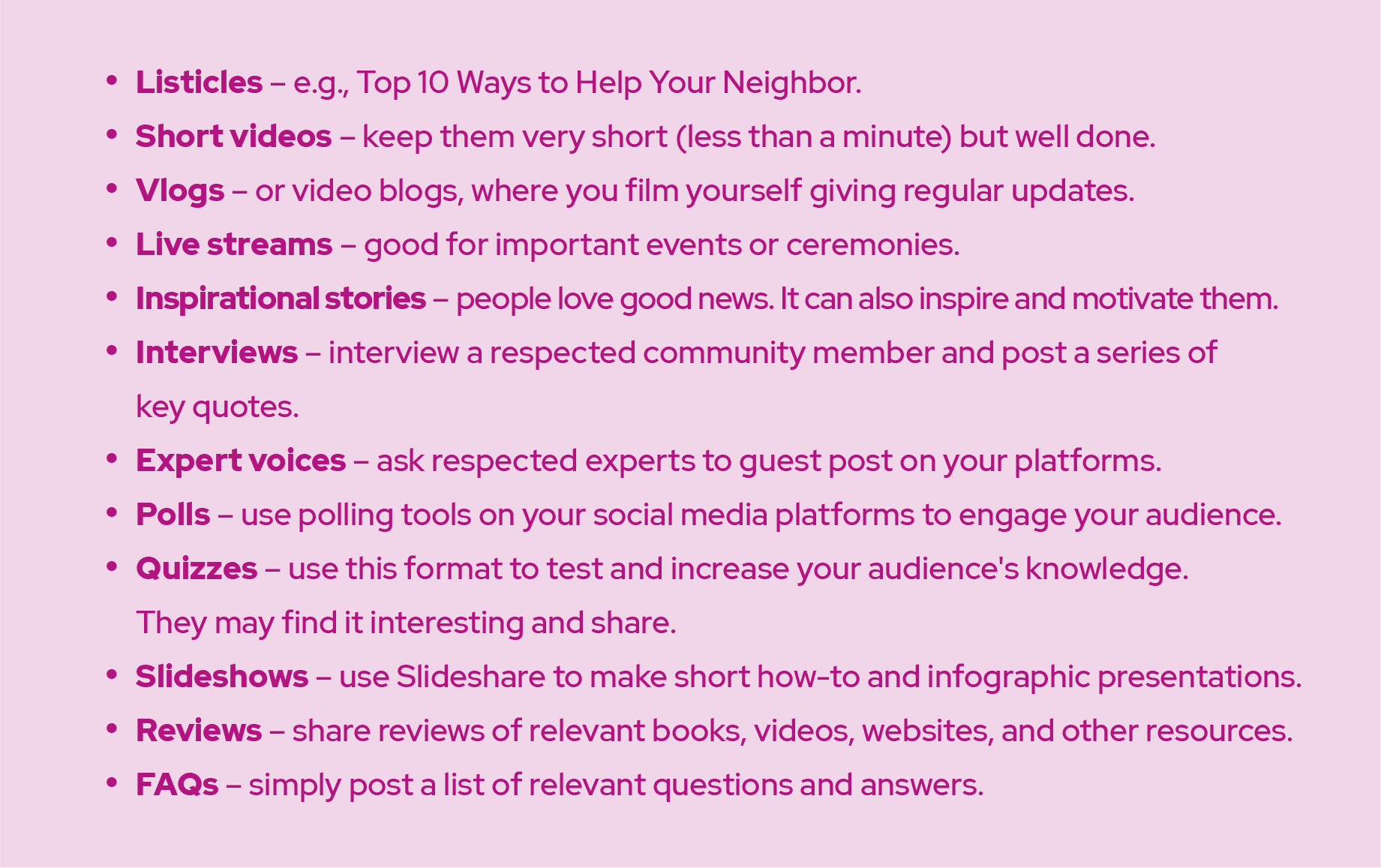 Scheduling
This is so important. When you start to plan and schedule your content it allows you to get ahead and think carefully about what you are posting. You will feel less pressured and will be less likely to publish last-minute content that you haven't really thought through. 
Planning gives you a more strategic view of what you are posting, so you can focus on your communication goals, release information in logical order, and avoid repetition.
You should also try to find out when your audience is most likely to be online. Is it when they wake up, when they eat lunch, or just anytime? Try to think about their lifestyles and when they are most likely to have time to consider your message. Schedule your posts for then.
Tip
Did you know you can publish your latest Facebook post, Instagram photo, and tweet simultaneously? There's a tool for that.
Social Media Scheduling Tools
Whether you are using one or many social media platforms, social media scheduling tools can streamline your communication efforts. They allow you to plan your content, manage creative assets like photos and logos, schedule posts for the best times, and also track your progress. 
These tools also help you collaborate with team members and manage your workflow. You can draft posts, and other people can comment and make contributions as needed. This is especially useful if you are not all in the same place or time zone. Ultimately, these tools improve efficiency and save time, so you can focus on being strategic and developing new ways to connect with your audience. 
Just like social media platforms, there are new scheduling tools emerging all the time. To stay up to date, simply search [social media scheduling tool] and look for a review of multiple tools. Then decide which one suits you best.
Finally, keep on learning—new tools, new ways to connect with your audience, and new ideas for furthering your mission. Just keep connecting with your networks and the broader internet to find out what you can do. 
Useful Resources

Check here for up-to-date information about social media image sizes:
https://sproutsocial.com/insights/social-media-image-sizes-guide/
Create surveys, polls, questionnaires:
https://www.surveymonkey.com/curiosity/topic/polling/
Create presentations:
https://www.slideshare.net
Templates for creating different types of content:
https://www.canva.com/templates/