Back
Free resources to help make great visual content.
Good images matter online
Visual images get attention! Think about what attracts your attention when you are scrolling through your social media feed or simply reading a newspaper. It's the images, right? Graphics, photographs, and advertisements. To make your message stand out from the many messages your audience sees everyday, you need to get good images. 
Images can:
help communicate ideas, simple or complex, with few words

make your content look professional and authoritative

make people remember what you are saying

encourage people to share your information with others
Lots of text with no images is also boring! It's like a book or a magazine with no pictures. You definitely need images for successful online communication. Words and images work together to tell powerful stories. 
Content Creation Tools
It doesn't matter if you're not a designer or have no technical skills. You can create great images online. The programs make it very easy for anyone to make great images.
They have many templates for you to choose from. There are often so many choices that it's difficult to choose exactly what you need. The programs will suggest good ideas for you. 
The good news: there are content creation tools that are both easy to learn and FREE! Yes, that's right, free. Many small businesses and organizations that cannot afford a graphic designer use them.  
Some are free for a trial period like 14 days. Then you have to sign up and pay. 
Others are free for individuals, but large organizations have to pay.
Sometimes the tools are free depending on your usage. You only have to pay when you use them a lot.
You can create a variety of content with these tools. This includes:
Presentations

Flyers 

Posters 

Social media images that are pre-sized to look good on any social media platform. 

Headers

Logos

Animations

Infographics

Surveys—use Google Survey or Survey Monkey 

Memes

GIFs
Risk of using anything for free online
– Find out why something is free before you use it. The two main reasons that online services are free are:

1) To attract as many users as possible so advertisers will pay more; 2) To get user information to sell to other businesses.

– Always do a simple search before using anything free. Type "Why is [name of site] free?"

– Read the privacy policies on the site. 

– Look at the privacy settings on your device and decide what information you will share.

– Double-check whether the work you create will be automatically shared publicly. 

– Ask your colleagues and friends if they know of any risks of using this free tool.
Credit your image sources
You can use your own original images online or use images created by other people. There are so many photographs and visual images on the internet that using other people's images can be cheap, quick, and easy. 
Sources of free images include image libraries, photographs on social media, and photographs from websites. Be sure you have permission to use them, however. Check for permission on the site or by emailing the owner. 
Always state where you get images from on the internet, even when they are free. This is important because:
It is widely considered the right thing to do. Everyone deserves credit for their work. 

It tells your audience that you are not stealing images, and gains their trust. It means you are honest about where you get your information. 
How to give credit for images
Use the format below. Always apply this on the lower right-hand side of images you use. Font size should be no less than 10 pt. 
via [source link]
OR
Image by [Photographer name] via [Source link] Copyright-free
Fill in your name or your organization's name if the work is yours. Otherwise, people will wonder where it came from. 
Click here for in-depth information about how to identify the source of images and credit them in your online content. 
Our Recommended Tool
There are many free, online content-creation tools. Our top pick is Canva.
We like Canva because it:
Is easy to learn and use. 

Has lots of templates for many different formats. 

Is regularly updated with new template choices. 

Can choose the entire look and feel of your design for you. 

Lets you work in teams, so other people can comment on your work. 

Stores your projects in your account so you can adapt them each time. 
You can use Canva to make sure every message you create is branded and looks the same, so people know the message is from your organization. A clear and consistent look and feel helps to make people aware of your group and take notice of the information. If it didn't have a similar look, people might not immediately link it to your group. 
Always research your tools before you use them. New tools are being created all the time. You might discover a new one that you like better. Also ask for recommendations from other people.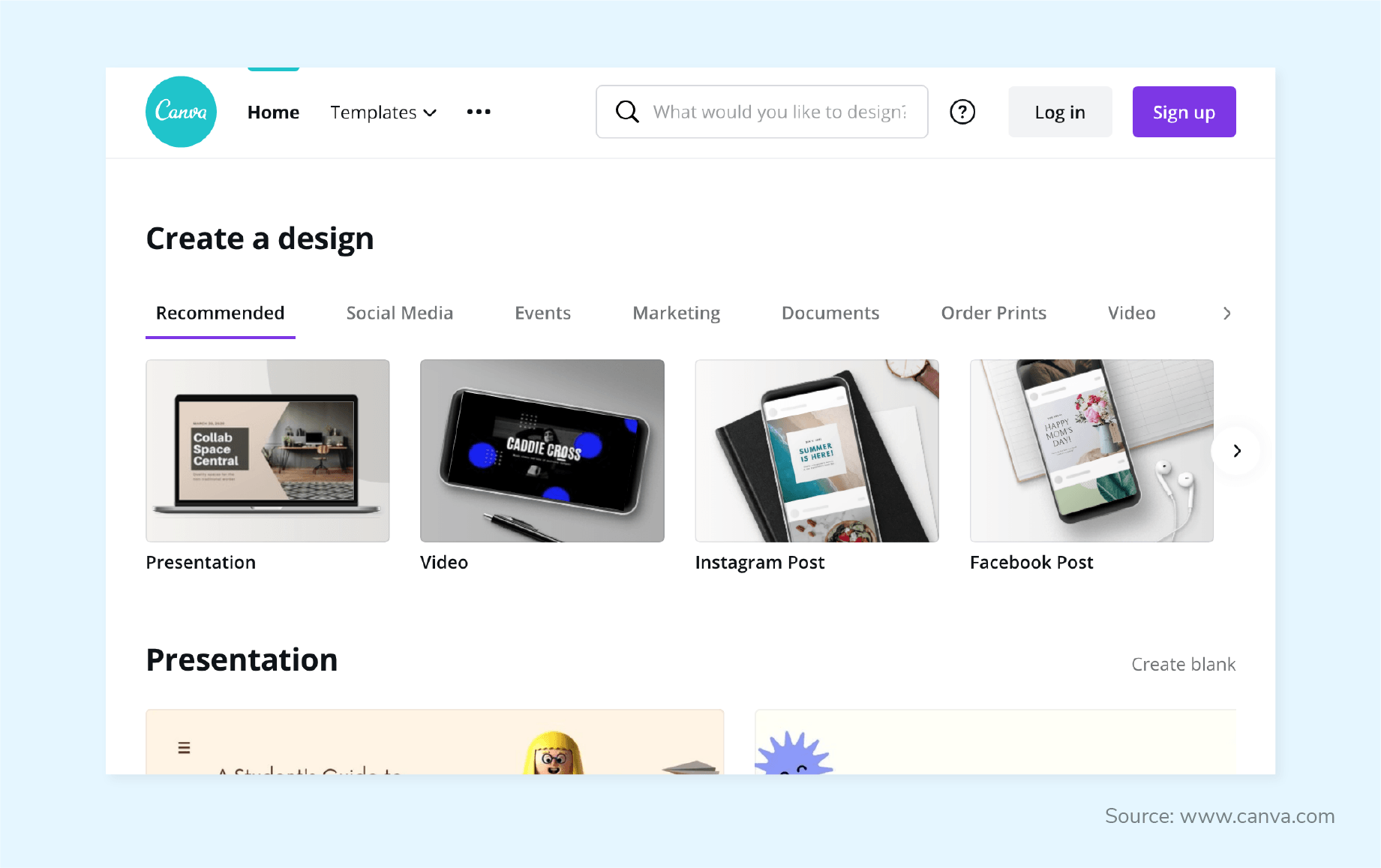 Learn Tips and Tricks Online
There are many short video tutorials on the Canva website to help you get started. 
We also suggest joining the Canva Design Circle, a private Facebook group where you can ask questions and learn how to create things with Canva. It is also interesting to see the questions and answers other people post and the inspiring work they share.  The Canva team is also in this group, and they often share tips and updates.
The key is to take the first step and get started. You'll learn quickly. The site is designed to be easy to use.